Personality Assesement
As requested by fans, below is the typing of the Visual Identification & Myers Briggs Personality Type. You can now vote for your favorite MBTI personality type below

MBTI Personality Type


What's your favorite MBTI Type for this famous person?
(Poll Open)






Below is the average of all functions by votes




E

54%

S

50%

T

51%

P

52%

What do you think about the Myers Briggs® personality type scored above? or "Do you agree? Share your thoughts in the comments
>> go to comments section!

Total Votes: 228 Votes




♡ Full Breakdown :

MBTI Type
Socio-Type
ESTP
MBTI Functions

Top functions by all votes.




Dom:

Se

Aux:

Ti

Tert:

Fe

Inf:

Ni

Enneagram Type:
-
Left Handed or
Right Handed?

Let us know if Left Handed or Right Handed. That's the only way we can improve our services and categorization.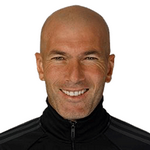 Net Worth: $70 million
Videos:
https://www.youtube.com/watch?v=VUogwIoxwxg
Quick Profile Overview
Zinédine Zidane Trophies:
1
3
1
1
1
Born/age: Jun 23, 1972 (45)
Nationality:
France
Avg. term as coach: 1,56 Years

Preferred formation: 4-3-3 off.
Real Madrid
Manager
 LaLiga
Passport
First name

Zinédine

Last name

Zidane

Nationality

Date of birth

23 June 1972

Age

45

Country of birth

Place of birth

Marseille

Position

Height

185 cm

Weight

78 kg

Foot

Right
Trophies
National
World Cup
Winner
1x
1998 France
Runner-up
1x
2006 Germany
European Championship
Winner
1x
2000 Netherlands/Belgium
EC Qualification
Winner
1x
2000 Netherlands/Belgium
Club Domestic
La Liga
Winner
2x
2016/2017, 2002/2003
Runner-up
3x
2015/2016, 2005/2006, 2004/2005
Serie A
Winner
2x
1997/1998, 1996/1997
Runner-up
1x
1999/2000
Copa del Rey
Winner
1x
2013/2014
Runner-up
2x

2003/2004

,

2001/2002

Super Cup
Winner
1x
1997/1998
Super Cup
Winner
3x
2017/2018,

2003/2004

,

2001/2002

Club International
UEFA Champions League
Winner
4x
2016/2017, 2015/2016, 2013/2014, 2001/2002
Runner-up
2x

1997/1998

,

1996/1997

UEFA Europa League
Runner-up
1x

1995/1996

UEFA Super Cup
Winner
4x
2017/2018, 2016/2017, 2002/2003,

1996/1997

FIFA Club World Cup
Winner
2x
2017 UAE, 2016 Japan
Inter Continental Cup
Winner
2x

2002

,

1996

International Champions Cup
Winner
1x
2013
Tactical Philosophy
There is a widespread belief that Zidane's role as a manager of this Real Madrid side involves him with only managing the egos and keeping them happy. To an extent, it is true that Zidane's primary job is man management. Having been a star himself during his playing career and also a part of the Galacticos at Real, Zidane knows what the expectations are like at the Madrid club. He has experienced everything first hand and knows the problems involved inside the football club. Having been a part of the Real Madrid set up for seven years before his appointment as a manager, Zidane knows the club well and also has a good relationship with the players. His legend status as a player also gives him the respect from the squad, something that was a problem for the players previously under Rafa Benitez.
During his study for the licensing badges, Zidane watched Guardiola at Bayern Munich and attended a few sessions. However, he showed an inclination towards Marcelo Bielsa, manager of Marseille and Christian Gourcuff who was managing Lorient, at the time. Gourcuff is known for building fluid attacking sides with a stringent budget. Zidane's influence in a managerial aspect comes from these encounters.
As a manager, with a vast assortment of stars, Zidane continued with a 4-3-3 using Modric and Kroos along with Isco/ James as part of the midfield trio. The BBC partnership up front was preferred. Kroos was chosen to be the lone pivot in this system, having been moulded into an excellent ball player in that role under Pep Guardiola at Bayern Munich.
Concluded MBTI Personality: ISFP
Read more on ISFP fuctions here
I've got my thoughts, but I'm not really sure of them, so I think I'll wait for other theories about further managers (and players).
Thank you!
Let us know if Left Handed or Right Handed. That's the only way we can improve our services and categorization.