Personality Assesement
As requested by fans, below is the typing of the Visual Identification & Myers Briggs Personality Type. You can now vote for your favorite MBTI personality type below

MBTI Personality Type


What type do you think is the MBTI for this famous person?
(Open Poll)




Below is the average of all functions by votes




I

51%

N

51%

F

54%

J

54%

What do you think about the Myers Briggs® personality type scored above? or "Do you agree? Share your thoughts in the comments
>> go to comments section!

Popular Votes: 231 Reactions




♡ Full Breakdown :




MBTI Type
Socio-Type
INFJ
MBTI Functions

Top functions by all votes.




Dom:

Ni

Aux:

Fe

Tert:

Ti

Inf:

Se

Enneagram Type:
-
Left Handed or
Right Handed?

Let us know if Left Handed or Right Handed. That's the only way we can improve our services and categorization.
Concluded Myers Briggs Personality Type –   ESTJ

Net Worth: $40 million – 2018

Live Interview Videos:

https://www.youtube.com/watch?v=X5j9URl2ypo
Edinson Roberto Cavani Gómez is a Uruguayan professional footballer who plays as a striker for Paris Saint-Germain and the Uruguay national team. Cavani began his career playing for Danubio in Montevideo, where he played for two years, before moving to Italian side Palermo in 2007.
Born: 
14 February 1987 (age 31 years), Salto, Uruguay
Salary: 
10 million EUR (2014)
Spouse: 
Maria Soledad Cabris Yarrús (m. 2007–2014)
Current teams: 
Paris Saint-Germain F.C. (#9 / Forward), Uruguay national football team (#21/ Forward).
First name

Edinson Roberto

Last name

Cavani Gómez

Nationality

Uruguay

Date of birth

14 February 1987

Age

31

Country of birth

Uruguay

Place of birth

Salto

Position

Attacker

Height

184 cm

Weight

71 kg

Foot

Right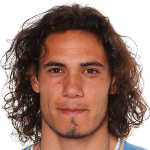 CAREER
Season
Team
Comp
2018/2019
PSG
LI1
563
7
7
0
2
1
5
0
0
0
2017/2018
PSG
LI1
2588
32
30
2
10
2
28
3
0
0
2016/2017
PSG
LI1
2976
36
35
1
13
2
35
5
0
0
2015/2016
PSG
LI1
2305
32
24
8
4
10
19
3
0
0
2014/2015
PSG
LI1
2630
35
30
5
7
6
18
3
1
0
2013/2014
PSG
LI1
2297
30
25
5
5
6
16
2
0
0
2012/2013
Napoli
SEA
2981
34
33
1
1
1
29
6
0
0
2011/2012
Napoli
SEA
2914
35
32
3
5
3
23
4
0
0
2010/2011
Napoli
SEA
2902
35
32
3
5
3
26
5
1
0
2009/2010
Palermo
SEA
2610
34
31
3
18
3
13
7
0
0
2008/2009
Palermo
SEA
3064
35
34
1
10
1
14
2
0
0
2007/2008
Palermo
SEA
1772
33
17
16
11
17
5
3
0
0
2006/2007
Palermo
SEA
454
7
4
3
1
4
2
3
0
0
2006/2007
Danubio
PRD
?
15
?
?
?
?
5
?
?
?
2005/2006
Danubio
PRD
?
10
?
?
?
?
4
?
?
?
Total
30056
410
334
51
92
59
242
46
2
0
TROPHIES
Club Domestic
Serie A
Runner-up
1x
2012/2013
Ligue 1
Winner
4x
2017/2018, 2015/2016, 2014/2015, 2013/2014
Runner-up
1x
2016/2017
Coppa Italia
Winner
1x
2011/2012
Coupe de France
Winner
4x
2017/2018, 2016/2017, 2015/2016, 2014/2015
Coupe de la Ligue
Winner
5x
2017/2018, 2016/2017, 2015/2016, 2014/2015,2013/2014
Super Cup
Runner-up
1x
2012/2013
Trophée des Champions
Winner
6x
2018/2019, 2017/2018, 2016/2017, 2015/2016,2014/2015, 2013/2014
National
Copa America
Winner
1x
2011 Argentina
China Cup
Winner
1x
2018
TRANSFERS & LOANS
| Per | From | To | Value |
| --- | --- | --- | --- |
| 16/07/13 | Napoli | PSG | € 64M |
| 01/07/11 | Palermo | Napoli | € 16M |
| 15/07/10 | Palermo | Napoli | Loan |
| 01/01/07 | Danubio | Palermo | € 5M |
SIDELINED
| | Description | Start Date | End Date |
| --- | --- | --- | --- |
| | Thigh Muscle Strain | 26/10/18 | 01/11/18 |
| | Calf/Shin Injury | 01/08/18 | 21/08/18 |
| | Calf/Shin Injury | 01/07/18 | 07/07/18 |
| | Thigh Muscle Strain | 11/05/18 | 20/05/18 |
| | Suspended | 08/03/18 | 12/03/18 |
| | Hip/Thigh Injury | 09/02/18 | 12/02/18 |
| | Calf/Shin Injury | 09/05/16 | 13/05/16 |
| | Knock | 17/12/15 | 29/12/15 |
| | Suspended | 18/10/14 | 27/10/14 |
| | Knee Injury | 09/05/14 | 15/05/14 |
| | Thigh Muscle Strain | 01/02/14 | 28/02/14 |
| | Thigh Muscle Strain | 04/11/13 | 08/11/13 |